By Dr. Bill Lloyd, CLD Medical Director
A
s a medical student back in the 20th century, I rarely had to think about finding lunch.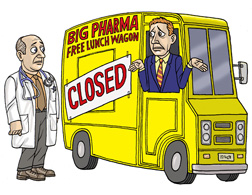 Whatever the clinical rotation, the noon meal was routinely provided by an invited drug firm sales representative in exchange for sitting through a product presentation. Free food was exchanged for product information. Paradoxically, the least healthy food choices (the world's greasiest pizza) would be served by reps promoting the latest lipid-lowering pill, whereas those introducing the newest oral hypoglycemics always served the best desserts!
Fast forward to today and most of you know things have changed and this practice has since been outlawed in most training institutions. Progressively restrictive guidelines now limit interactions between physicians-in-training (i.e. interns, residents, fellows) and pharmaceutical industry sales representatives.
However pure the intent of AMA, AAMC, AMSA, and ACGME to keep pharma off campus, young physicians now enter clinical practice unfamiliar with the intellectual and ethical aspects of dealing with pharmaceutical representatives, an activity that occurs frequently in postgraduate clinical practice. How can these newly minted specialists constructively leverage the critical information from these interactions if they had no previous experience during their training? Ah, the Law of Unintended Consequences strikes again!
Aware of this situation, one internal medicine residency in Iowa conducted an educational study that explored the utility of structured pharmaceutical interactions in the medical education environment. (View the full report here)
Twenty-seven residents participated in this year-long study. Four different pharmaceutical
 representatives were invited to deliver the identical presentations they would give in a real-world clinical setting with a practicing physician. Afterward, an in-house clinical pharmacist would conduct a debrief that evaluated the state of the evidence regarding the information presented (academic counter-detailing). Brief surveys were completed at various time points that assessed the residents knowledge of the medication discussed as well as their attitudes towards the pharmaceutical representative.
The results of this small study may encourage academicians to reconsider the value of physicians-in-training interacting with the pharmaceutical industry as part of residency training.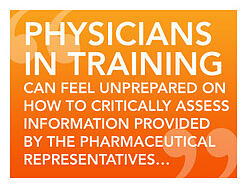 Study participants agreed they learned new information while providing positive feedback about both the drug representatives and the counter-detailing sessions. This study creates a useful model wherein graduate medical education programs can effectively prepare its doctors for future interactions with industry.
Doctor Lloyd is a clinician-researcher with extensive experience in medical education, instructional design, and content development.
Reference: Wall GC et al. Structured Pharmaceutical Representative Interactions and Counterdetailing Sessions as Components of Medical Resident Education. Journal of Pharmacy Practice. Published online 22 January 2013.
Image Credit: Mark Alan Stamaty