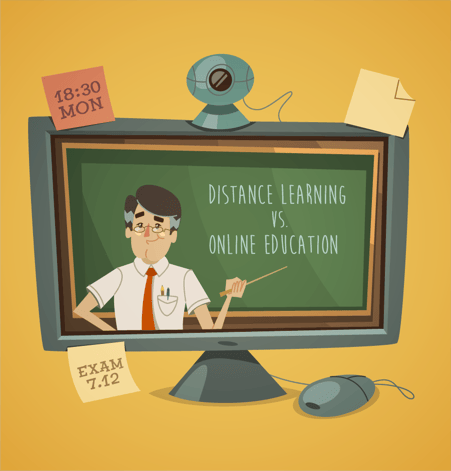 Logically, there is a better likelihood of positively impacting your business if you are in front of the customer, versus somewhere stranded at a training meeting. Of course, that doesn't mean you forego training altogether, but it does mean that you have to create distance learning solutions that will optimize efficiency and deliver the same results as live training. Companies often ask vendors for this sort of solution, but when the time comes – they simply don't have the technological capabilities – or a trainer – with the confidence to deploy it.
Conference calls are not a viable alternative either. We have all been on one of those endless conference calls where half of the people are having sidebar conversations without muting the line, a dog is barking in the background, or worse – people are driving while they are "listening." It's hard to be an active participant if you aren't focused or safe, for that matter, which renders the training initiative futile. This is a perfect opportunity to create virtual classroom trainings, or VCTs. VCTs provide an interactive training environment that creates a layer of practical application that an audio conferencing forum simply doesn't provide. The beauty of VCTs is that you don't have to be a technical expert or rely on your IT department to help you deploy them.
What are they and how do they work??
VCTs are training platforms driven by the trainer using a web-based program, such as WebEx or Adobe Connect. Similar to a live training, VCTs incorporate slide/video presentations, presented and controlled by a trainer or SME (subject matter expert) via web meeting, which may or may not be accompanied by video connectivity of each participant using web cameras internal to their laptops, or external to their desktops. Virtual training mimics the group learning environment, without the need for travel – saving both time and money. Participants can interact with one another throughout the presentations as if they were in the same room, using chat room logic, and can engage in workshops at a distance.
Reasons to use VCTs:
Increased productivity and retention – less lag time in learning deployment, so you use the skills immediately versus a week later if training is buried in a business meeting
Economical solution – less budget spent on travel and less time away from customers
You will reach a critical group of learners you may have been overlooking in your training methods – the millennials and digital natives (Gen X/Yers) who demand a short, techno-savvy approach to their training
Pros and Cons of this format??
Cultural dynamics aside, the success of this type of format is only as good as the user's ability to navigate the technical aspects of the VCT. Most new hire training curriculums focus primarily on disease state and product training, while technology training is vastly overlooked. Since millennials have entered the workforce, many companies feel this sort of training is obsolete and unnecessary. However, as many specialty companies shift to a more tenured B2B sales force, it may be wise to invest just a little in tech capability training. Most people have at least a cursory knowledge of how to navigate a laptop or tablet, but playing Words with Friends is a far cry from operating technology to manage your business and using the iPad to learn from.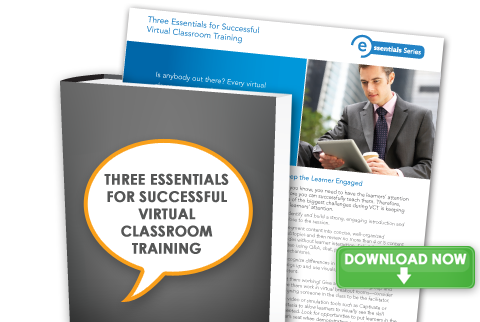 Here are some other important things to consider when contemplating the use of VCTs:
The live video version of this format should only be used for groups of 3-5, for short increments of time (ideally less than 3 hours). If there are any more than that, the live video interactivity can become complicated, confusing, and often cause loud echoing during the presentations.

Ideal forums for this type of learning include product updates, marketing tool deployments, market access changes, thought leader Q&As, POA meeting preparation, and review sessions.

Be sure the workshop is basic. Any gamification is ill-advised using this type of technology because most web interfaces cannot support the bandwidth necessary to employ such a capability, and the participants can get so wrapped up in the technical aspects of the functionality, they are unable to focus on the real objective: Learning.

Ideal workshops for VCTs should incorporate the whiteboards, chat function, and other type-driven applications present in the web system being used. Polling and quick answer functions can also be used throughout the program to reinforce key learnings. Using multiple modalities such as these will help keep the learner entertained and engaged throughout the training.

If you plan to employ this tactic as a part of your learning path be sure to incorporate technology functionality training as part of your initial training plan when you onboard new hires. Don't assume that that your audience is comfortable with standard technology operating procedures. Make sure it makes sense to them ahead of time.
Plan ahead. Practice often. Anything that can go wrong with technology probably will, so you may want to be sure the platform is working properly on both ends – yours and the learners – and if it isn't, at least know of some ways to troubleshoot the issues.
VCTs create an inclusive eLearning environment in lieu of a live training class. From a cost perspective, it is typically an all-around win:
Saves on travel
Saves on time out of the field and away from clients
Saves on creation of various materials (although the platform itself is web-based, any additional cost may come from specially created PowerPoints or videos)

And because they are web-based, VCTs offer alternative scheduling for people who would be valuable contributors to training (e.g. VPs of Sales, Marketing Directors, etc.) whose calendars are difficult to manage because of their intense travel schedules. This method allows people to present from all over the globe, provided the time zones coincide. While it will never replace the value of the face-to-face training, VCTs provide an excellent training solution for anyone looking to reach a vast audience with a consistent and cost-effective learning approach.