Live from Orlando, Alicia is back at it for Day 2 of ATD 2015! We're living vicariously through her insightful commentary and learning along with her at each session. Read on for Day 2's session takeaways and more of Alicia's key learnings!
General Session: Welcome by Tony Bingham, President and CEO of ATD
Session Takeaway
The message this morning was clear: we need to embrace social and mobile learning or else become irrelevant. I think it is definitely something to strive towards as social media and mobile learning are quickly being adopted. Keeping up with technology is becoming harder and harder to do. Which reminds me of a statistic I learned yesterday — it took decades to get phones in 50% of households, while it took less than 1 for cell phones.
Alicia's Key Learnings
1. The most important trend is social and mobile learning — it has a rapid impact that can be disruptive if it is not embraced
2. There is a changing landscape of learning as the "Connected Generation" (aka the Millennials and Generation Y— those in their 20s and early 30s) enters the workforce
3. To be successful in building social and/or mobile learning:
You must listen to the users of the solution
Keep it simple and short
Continuously measure effectiveness with the learner and use the information to keep improving
Leading a Global Business by Andrea Jung
Session Takeaway
As a woman, I just have to say, WOW. An inspirational talk not only filled with global leadership lessons, but also life lessons. Only people can change the world.
Alicia's Key Learnings
1. Leadership Lessons
Vision and values must be in a global language.
It's all about influence.
Reinvention is the key.
Never stop innovating.
Women are the fastest growing emerging market.
Do good. It's as important as doing well.
2. Life lessons
It's about purpose, not power.
Follow your compass, not your clock.
Persevere. Never give up.
Fail forward.
Life is not always fair.
Balance is possible, but not always on the same day.
Pay it forward
Delivering and Designing Training with Digital Natives in Mind by Denise Forney
Session Takeaway
Shh… I'm going to let you in on a secret… I am a Digital Native. The term digital native refers to individuals born after 1980 who have been raised in a digital, media saturated world. This digitally-focused environment affects the way these individuals learn and can lead to challenges when the teaching methods do not fit their learning style and attention spans. And yes, everything that Denise talked about in this session is true. It's a little hard to admit, but it's true. It was interesting listening to others from older generations as they struggled to reach and keep us digital natives engaged. I think the key lesson was, what the digital native wants may also be what every generation wants. The difference? We expect it, and if we don't get it, we'll look somewhere else.
Alicia's Key Learnings
1. Who is a digital native? Answer: a person born or brought up during the age of digital technology and therefore familiar with computers and the internet from an early age
2. What makes digital natives unique?
First generation to grow up in the midst of social media
Has grown up with video gaming and the vivid user interfaces gaming provides
Everyone, regardless of social class, has access to some form of technology
Digital natives seem to filter information differently given their experiences growing up with more robust media
3. How do you engage them?
Fun
Innovation
Collaboration
Flexibility
Invite their input
4. What to consider when training digital natives?
"Edu-tainment"
WIIFM: "What's in it for me"
Relevant or "just in time"
Want to learn on their terms and are capable of seeking out information for themselves
5. What can we do to train digital natives?
Incorporate new learning
Allow for constant collaboration and feedback
Give them resources where they can get the information themselves
Make it meaningful
Let them use their mobile devices
Creating Better E-Learning by Michael Allen
Session Takeaway
During my *gulp* 10 years at CLD, eLearning has been one of my fortés. As a digital native attending this session, I of course wanted to know what was new and innovative and how to do it better. I wasn't disappointed. Dr. Allen began by introducing us to the Serious E-Learning Manifesto (elearningmanifesto.org) and how to separate *yawn* typical eLearning from serious eLearning. I urge you to check it out.
Next, we delved into the 3 Primary Principles of great e-learning:
1. The 3 Ms: meaningful, memorable, and motivational
2. CCAF: context, challenge, activity, feedback
3. Match strategies to outcome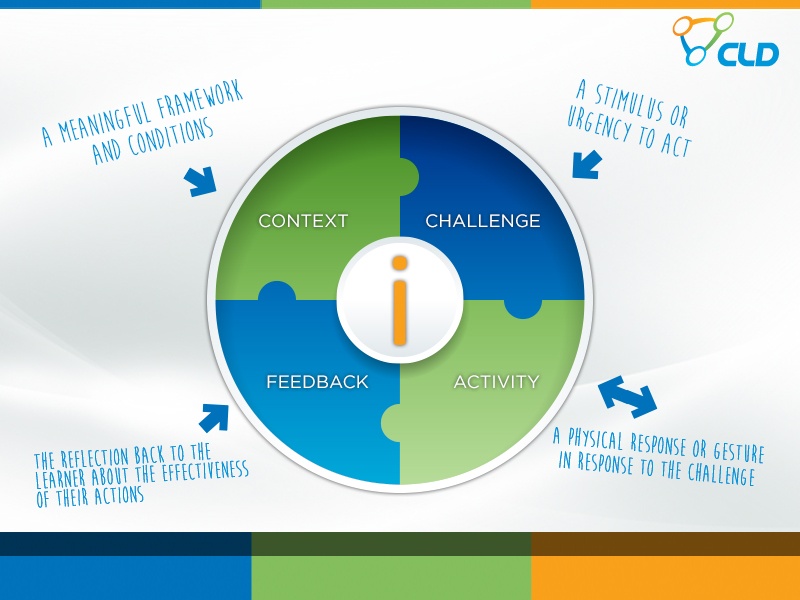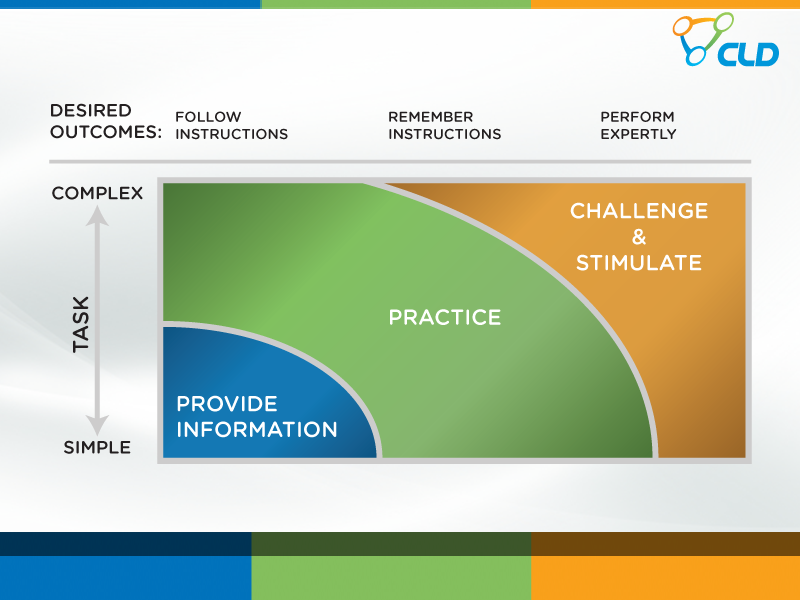 Alicia's Key Learnings
Remember: "People's time is non-refundable"

Solving the Mystery of the Disengaged Learner by Karl Kapp
Session Takeaway
Practice what you preach was embodied here. The last session of the day is always the hardest to keep people engaged, but Dr. Kapp succeeded! We all put our detective hats on and worked together to help solve the mystery, while learning along the way.
Alicia's Key Learnings
So, what are the keys to keeping learners engaged?
1. Story/Characters
2. Polling/Audience Input
3. Humor
4. Mystery/Curiosity
5. Blend story/instruction
6. Surprise
7. Winners/Teams
8. Open loop (ie, open ended questions instead of learning objective, cliff hangers to entice learners to open the next course, use teasers prior to the course, for example offer a survey and give the answer in the course)
9. Challenging, but achievable, put them at "mock" risk so they can learn from failure
10. Think aloud: Show how to think by giving explanation of the thought process

Which session(s) do you think sound the most interesting and applicable to the training challenges you face on a daily basis? What questions do you have for Alicia? Let us know in the comments!