CLD's coaching app is a multi-purpose tool that accomplishes the fundamental goals that training managers have to support the professional development of their employees. It allows managers to capture information areas where learners are proficient and areas where they need to improve while generating reports for managers and coaching feedback for employees. It's based on the premise that coaching is a personalized process focused on helping employees understand what success in their role looks like, how to manage the obstacles that get in their way, and the specific action steps they can take to lead to continued growth and development. Its flexible design allows for use in multiple environments, such as new hire training, performance coaching during ride-alongs, certifications following product launches, and gamification during live events.
"In the Harvard Business Review article, "Leadership That Gets Results," Daniel Goleman suggests that coaching was one of the six essential leadership styles because it was shown to have a "markedly positive" impact on performance, and ultimately the bottom line.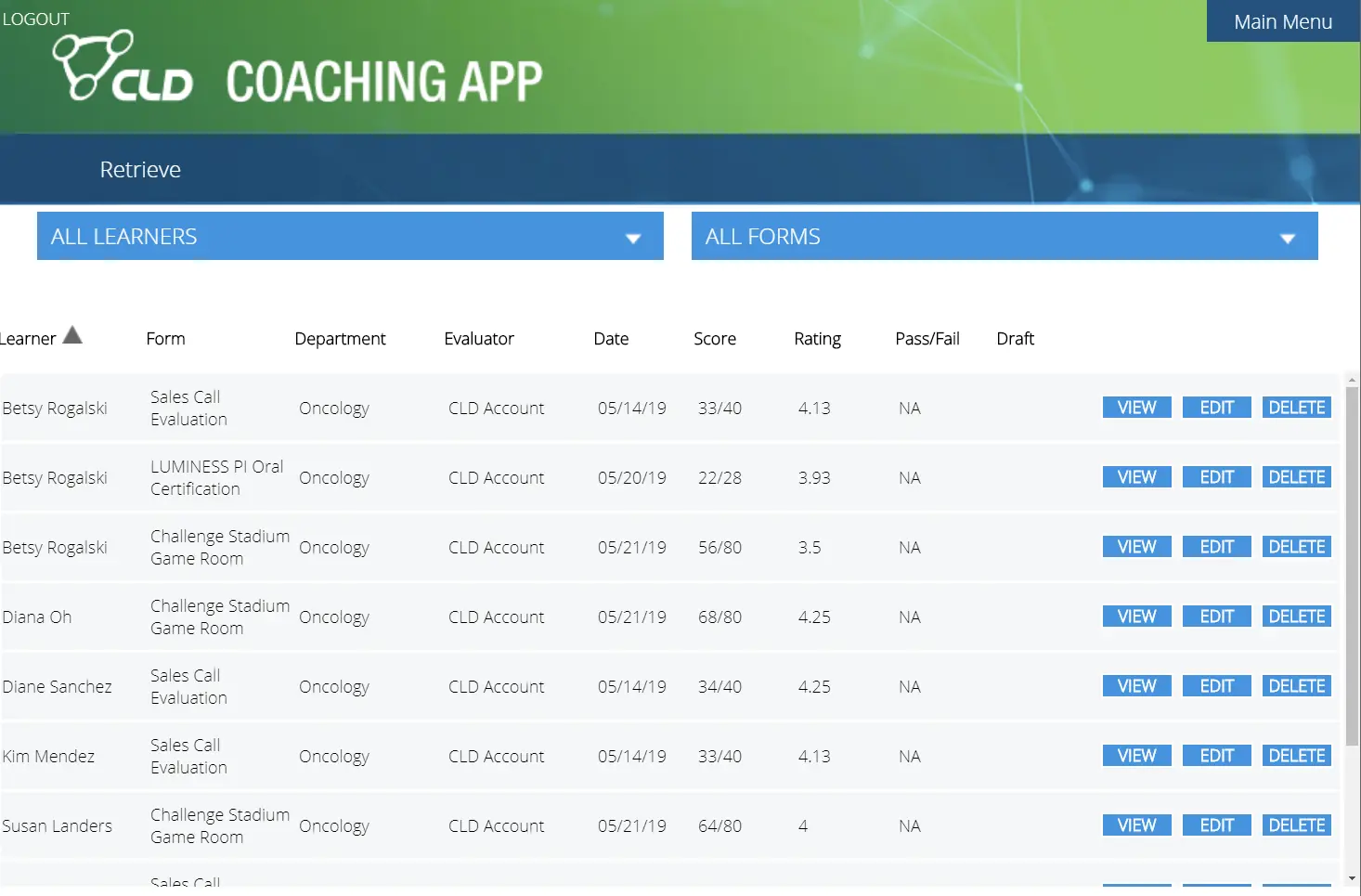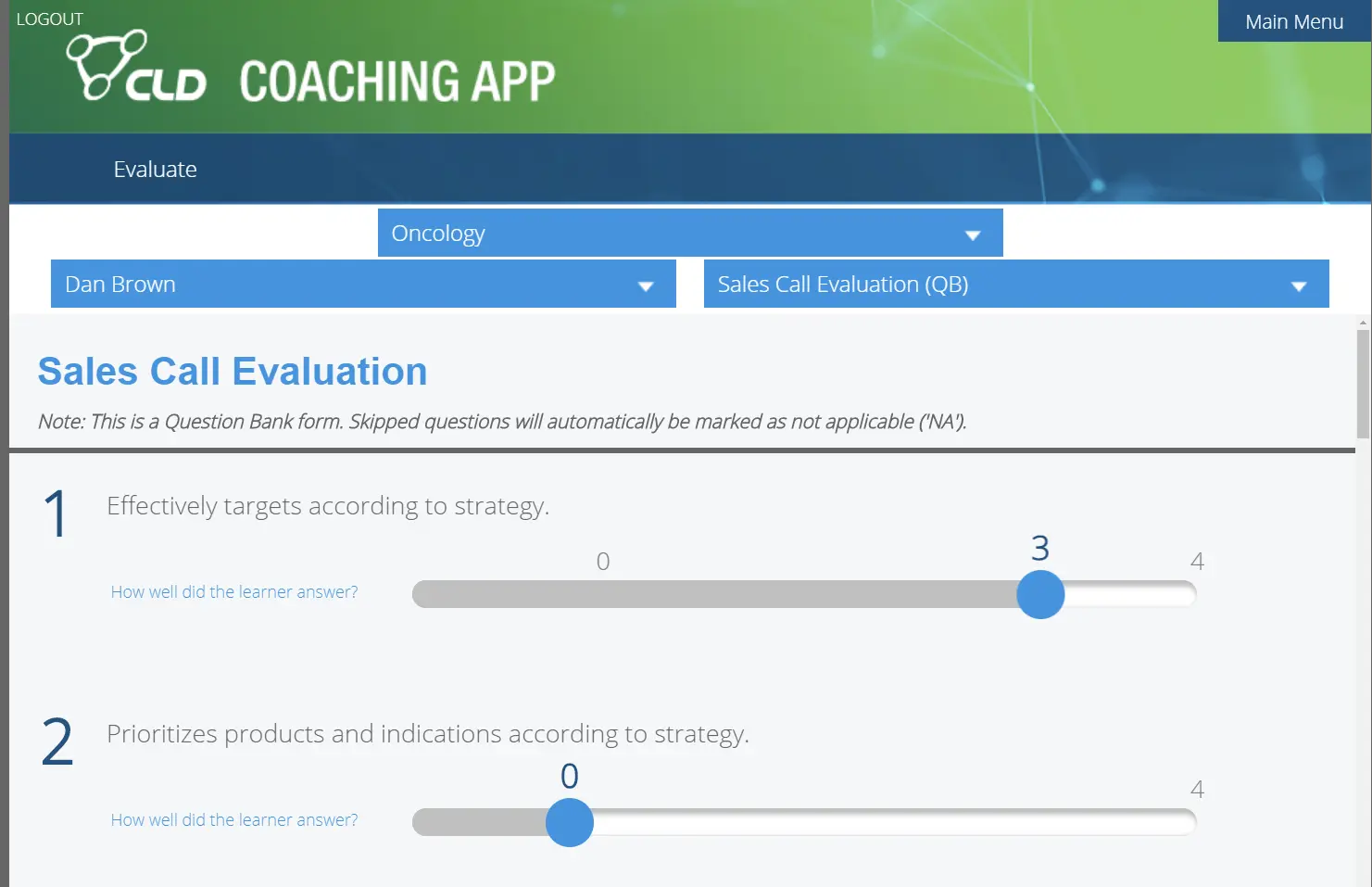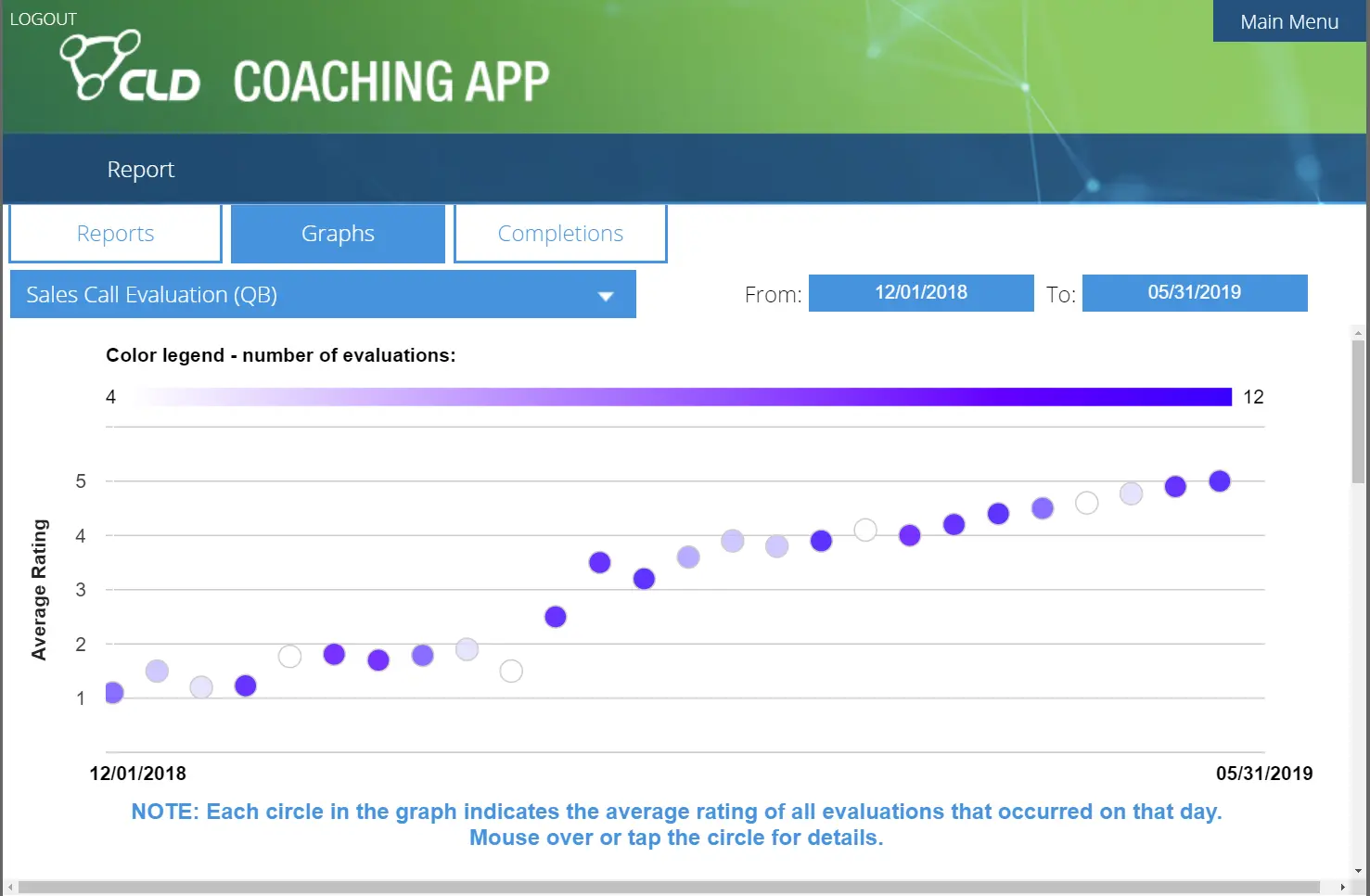 The app is designed to increase organizational success through aligning representative's skills, knowledge, and behaviors to organizational needs.
Following two product launches, Astellas Oncology quoted that they were "Two of the most successful launches in Astellas' history," and the coaching app was part of the solution that contributed to that success. Using the coaching app, the managers were able to coach and collect metrics at live training events, identifying areas where representatives needed additional reinforcement on specific topics. Following the event, the coaching app has been being used on an ongoing basis to provide customized coaching reports to managers, real-time analytics, and trend reports to leadership, sustaining the learning that occurred at the live workshop.
Show me how I can achieve coaching consistency!
Coaching where and when you need it
The solution allows coaches to provide feedback and assess selling skills using laptops, desktops, or tablet devices. The app provides coaches with a checklist that identifies critical skills to be demonstrated during a sales call. The information captured is emailed to both the coach and the rep. If the coaches are working offline, all data is stored until they reconnect. This feature allows coaching to take place when it's most needed–on the job—during ride-along evaluations.
CLD's coaching app is uniquely positioned to be used in a variety of settings.
New hire or advanced training regular coaching touchpoints
Evaluations and coaching during field rides
Certification checklists and assessments following product launches
Gamification of sales evaluations in a live meeting environment, with scores sent to a leaderboard optionally combined with scores from other games/quizzes
..."simplicity is the ultimate sophistication." ~ Leonardo da Vinci
During feedback sessions, coaches need to focus on their conversations with their reps. Coaches do not want their heads down, buried in complex technology. That's why the coaching app is straightforward to use – buttons are big, and steps are clear. Our QuickStart Guide provides everything you need to conduct a coaching session, including best practices for coaches, recommendations on scheduling sessions, and tips on using the app.
..."the best teams have consistency and chemistry." ~ Roger Staubach
Training managers are concerned about coaching consistency in the field. For example, there can be different focuses, levels of knowledge, and conflicting remediation advice. The coaching app helps alleviate this by providing critical points for the coach to listen for and guidance on each topic. It can also suggest specific materials to recommend to the learner–all in real-time during the feedback session. The result is a consistent learning environment across the organization.
The coaching app includes custom branding and the setup of all forms and user data. We also welcome unique requests. Our software development and design team can add any custom feature to the base app.
But How Can We Measure Coaching Success?
Three levels of standard reportsprovide metrics on the skills required for sales representatives to be successful:
Individual representative reports, with a list of each skill reviewed, the rep's result for that skill, and (optionally) a national average for that skill for comparison. A coaching plan may also be included in the report.
Group reports, containing the cumulative data of skills for a particular group of reps within the system.
Trends reports, which show how skill levels are changing over time. It can be displayed for individual reps or by district/region. It can also separate the trend lines by individual skill for more detailed information.
The data from these reports provide a powerful window into rep performance over time, including specific areas that are improving or declining. Based on the data collected, managers and leaders can identify gaps and implement additional training solutions or ongoing coaching events to address the needs. This process helps reinforce that learning is not just about training; it's about the results from continuous development.
Control as much as you want
Access to the app is flexible configurable with single sign-on technology, allowing users to use their existing network credentials. Access to particular feebcak forms is also flexible – the app can include feedback sessions specific to different user roles (e.g., coaches, managers, reps, administrators, etc.)
The app comes with an optional administration tool, allowing administrators to add/remove/edit users, plus create customized evaluation forms. Alternatively, you can focus entirely on coaching your learners rather than on administration, and in those cases, let CLD take care of the administration for you.
Coaching requires content
Behind every excellent coaching tool is a team of skilled writers. We have them in-house. Forty-five percent (45%) of CLD's writing staff holds an advanced degree (M.D. & Ph.D.). This expertise ensures content accuracy, unrivaled therapeutic knowledge, and the ability to craft customized learning solutions that prepare your learners for the field.
Our medical writers carefully craft:
knowledge check questions that are culled from the existing curriculum
key points for coaches to listen for, the location of the information within the curriculum, and suggested remediation activities
assessment scales based on your sales model for certifications
The importance of coaching in training and development becomes apparent when you look at the widely-accepted 70-20-10 model of learning where only 10% of learning comes from formal courses, 20% from other people, and 70% through on-the-job experiences, highlighting that 90% of learning depends on opportunities for participants to acquire skills outside of the classroom. In addition, as shown by the forgetting curve, even the 10% of learning that occurs within the classroom rapidly disappears if it's not reinforced regularly, making the need for effective coaching even more critical.
CLD's coaching approach recognizes that professional development doesn't end when the formal training concludes; it only just begins…!
Show me how I can achieve coaching consistency!