I
n this infographic, graphically adapted and enhanced from the chart appearing in "
FirstWord Lists: The $5 billion club – revisiting pharma's best-selling drugs of all time
" by Simon King, we explore the highest annual prescription drug sales based on peak year sales.
Here are a few of our key takeaways of what this data means to pharma sales training professionals:
The top 6 prescription drugs on the list (Lipitor®,Humira®, Sovaldi®/Harvoni®, Plavix®, Abilify®, Remicade®) are part of drug classes that are promoted by specialty sales forces. These representatives require in-depth, intricate learning in order to develop the skills needed to form essential consultative relationships with physicians.
Generic competitors are coming (we're looking at you Lipitor®, Remicade®, and Lantus®, just for starters..) Sales reps will need to be knowledgeable, confident, and competent with the clinical data in order to remain competitive with branded products.
Looking to the future:

The majority of these drugs are for chronic conditions; as the population continues to age, we expect this to increase.
Currently, there are no specialty cancer drugs on the list. We expect to see oral oncolytics ranked in the near future.
Based on its impressive rookie success in 2014, will Sovaldi®/Harvoni® take over the number one spot?
Biologics are clearly the way of the future. Representatives will need to be more knowledgeable and prepared than ever before. With significant side effects, risks, and REMS, pharma sales trainers will need to be ready!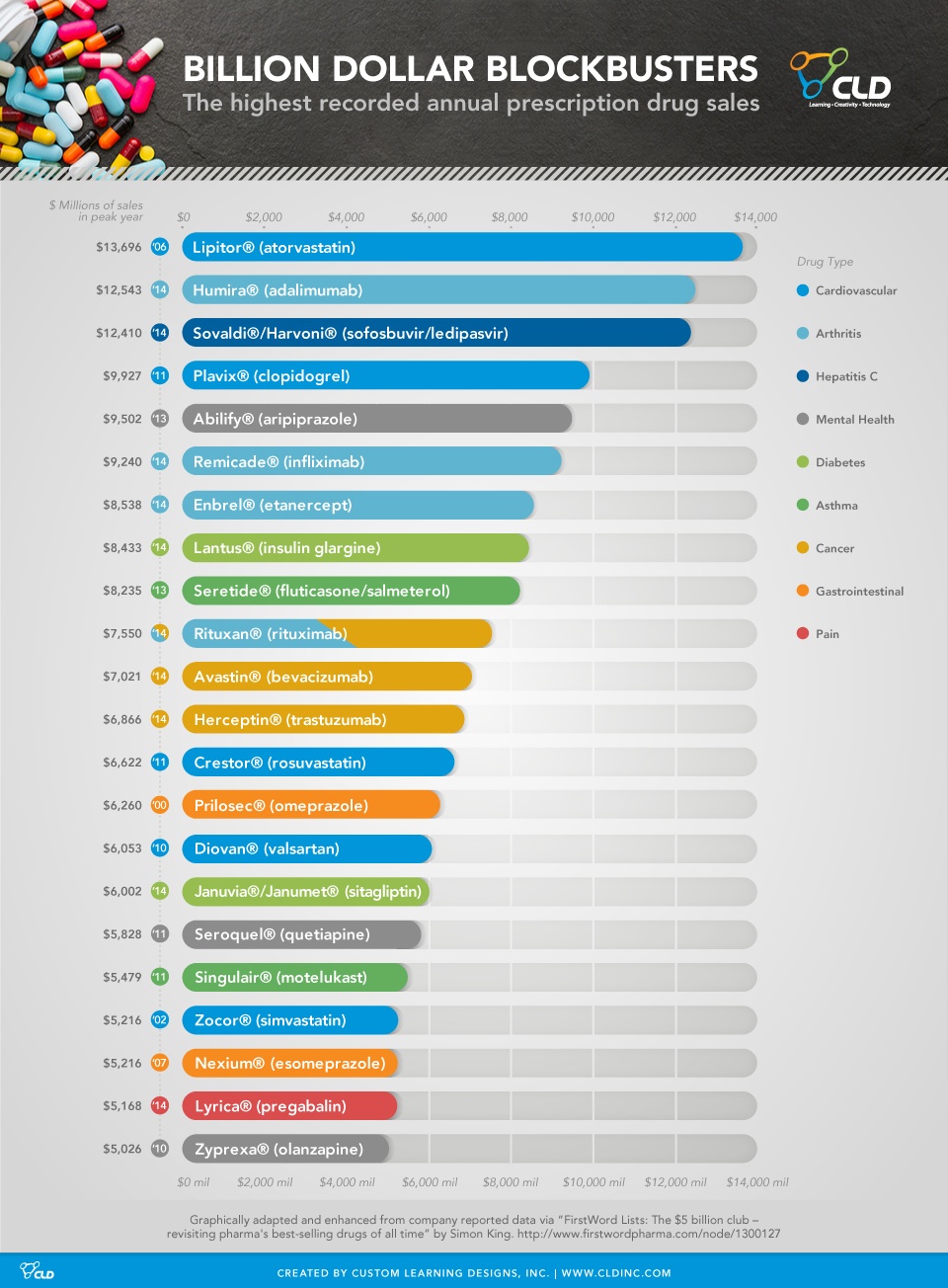 http://ctt.ec/M23sa+

Tweet This: Pharma Billion Dollar Blockbusters Infographic 
http://ctt.ec/M23sa+
Source:http://www.firstwordpharma.com/node/1300127#axzz3hUSHQ7yu