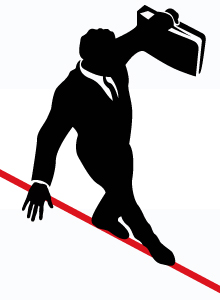 The pharmaceutical industry is part of the ever-evolving medical landscape where information about new medications, old medications, and advances in disease state knowledge continuously emerge in the form of peer reviewed journal articles, news articles, and media coverage. Pharmaceutical sales representatives are most often not trained on these types of new information as these resources are not approved for promotional use in the field. While on one hand it makes sense not to train representatives on information that they may not use in the field, on the other hand it presents two potential problems, which in turn presents an opportunity for a more progressive type of training.
The first potential problem is that representatives may be blindsided during a sales call when a physician brings up something he or she read that the representative has never heard of. I experienced this myself as a recently hired pharmaceutical sales representative launching a new drug. I left training feeling confident that I knew everything I needed to be able to go toe-to-toe with any physician when it came to product knowledge. My proverbial bubble burst a few weeks post-launch when a doctor said to me, "You know, the Medical Letter really slammed your drug, so I will not be writing it." I looked at him like a deer in headlights because I had no idea what the Medical Letter was, much less what it said about the drug I was selling. My credibility was damaged in his eyes, and my confidence was zapped because I was clueless as to how to handle his statement and redirect the call back to the approved selling messages.
The second potential problem is those driven representatives will often take it upon themselves to stay up-to-date with the latest information regarding the medications they sell, the competition, and the disease state in general, and will often share this information "off the record" with each other. The reality is that this practice sets them and their respective employers up for trouble since these often well-intentioned representatives have received no guidance as to how to conduct or circumvent conversations with physicians related to this information. This can be dangerous in an industry that is highly regulated and scrutinized. Anything perceived as misleading about a medication or as promoting off-label may trigger a cascade of events that could cost a representative his or her job and a company hundreds of thousands of dollars in fines.
Here is where a more progressive training solution presents itself: training designed to proactively inform representatives of new and relevant peer reviewed literature, news, and media coverage, and then instruct them as to how to handle situations where physicians bring this information up. Representatives would acquire this information in a controlled environment, where they would learn how to take control and redirect the conversation into a productive sales call.
Training solutions may include eNewsletters and interactive web presentations provided on a monthly or quarterly basis. An eNewsletter could present bullet points of product related news and media coverage as well as summaries of new peer reviewed journal articles that physicians are reading, with the disclaimer that the information contained within the eNewsletter is for background knowledge only, and not to be discussed with physicians.

Interactive web presentations with detailed facilitator guides can be designed to take a deeper dive into how to handle the same information, which could be presented in an eNewsletter. The presentations could include demonstrations of how to handle situations such as when a physician brings up something product related that he or she heard or read from an outside source. These demonstrations would show how to use approved sales messages and materials to address the physician's comments while remaining compliant and maintaining control of the call. Representatives would then have the opportunity to practice their responses with their peers and managers in a manner similar to objection handling.
Solutions such as the two above provide methods of effectively and safely keeping representatives up-to-date with the latest product related information, without compromising compliance or credibility.
Have you ever experienced a situation like this? Tell us how you've handled it!
Lyndsey Ladd is is a Medical Writer at CLD. She brings valuable experience as an award-winning sales representative to the wide range of training materials she helps to develop.
Image Credit: AMC's MAD MEN