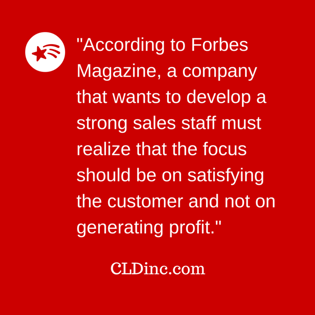 In order to be effective, medical device sales training needs to be ongoing and reinforced by a strong instructor. In a complex industry such as medical devices, sales managers need to be coaches instead of just managers. Even the best sales representative knows that each new day brings new experiences.
A supportive trainer is involved and works to help sales professionals learn from both positive and negative experiences. This is much more effective than a manager who does not get involved in the daily activities.
Strong Medical Device Sales Training Is Centered On The Customer
According to Forbes Magazine, a company that wants to develop a strong sales staff must realize that the focus should be on satisfying the customer and not on generating profit. When a sales professional works hard to make sure that customers get what they need, then the profit will take care of itself.
When coaching, sales managers strive to enforce the importance of working with customers to come up with real solutions. This may mean offering customers one device over another; so instead of pushing the product of the week because there is a sales incentive attached, staff work with customers to find the best solutions for their specific needs. Training like this goes beyond the scope of typical training materials: it is based on supportive training that allows sales professionals to grow.
Part of establishing a strong relationship with clients is gaining their trust and getting them to look at your sales staff as a resource for information and solutions. Your customers can get products just about anywhere, but they will buy from your company because they feel like they are getting the best advice and the best possible solutions.
Patience Is A Sales Coach's Best Friend
Every company would love to see their sales professionals getting up to speed and being as productive as possible within a pre-determined time frame. But savvy sales trainers know that each professional develops at a different pace and it takes time to create the right skill set. Patience is the most powerful virtue a sales coach can have in any situation.
Strong sales coaching considers each selling professional as an individual and not part of a machine. You do not churn out great sales associates, you develop them and play into their strengths to create an employee that will generate your company plenty of profit.
Always Listen
The stereotypical sales manager is seen as someone who barks out orders and expects results. But a manager with good coaching skills listens to his staff and can even learn something from each sales professional any given day. When a manager listens to his or her staff, the result is a strong relationship that gets the maximum productivity from the team.
In addition to providing quality instruction, sales managers work hard to provide support to sales professionals. They train, coach and support sales professionals so everyone benefits. Contact us to learn how we can help your managers become more effective.