This past week I had the pleasure of attending the Medical Device and Diagnostics Trainers Summit(MDDTS12) in Princeton NJ. Before falling victim to the forgetting curve, I wanted to share some of the speaker highlights as I remember them.
The Gamification of Learning
Guest speaker Dr. Karl Kapp, a professor of Instructional Technology in Bloomsburg University's
 Department of Instructional Technology, introduced us to some of the fascinating research behind his book titled, The Gamification of Learning and Instruction.
The core of his presentation focused on answering three questions:
What does research say about simulations?
Are games effective for learning?
What does science say about games and game elements?
To get the audience to participate, Dr. Kapp effectively used instant text-based polling to ask the experts there whether the following were fact or fishy.  Here are some of the questions and answers:
 Fact or fishy? Simulations build confidence more than classroom instruction.
Fact was texted near unanimously. Simulation games build confidence more than classroom instruction. In fact, simulation games build 20% more confidence than classroom instruction, according to Dr. Kapp.

Fact or Fishy?  Games or simulations have to be fun to be educational.
79% of the room texted fact. Research showed people can still learn even if a game is not fun or entertaining. Interactivity is the key.

Fact or fishy? Games increase knowledge retention.
Fact again. Knowledge retention after playing games was 9% higher than it was with traditional instruction. Declarative knowledge was 11% higher.
Dr. Kapp also emphasized that gamification need not involve points, badges, and leaderboards (PBLs) to be effective. In fact, he stated that incorporating game-based mechanics into routine tasks can have amazing results. He demonstrated this with a video showing how Cambridge Health Consultants created an asthma-training device using game based mechanics that more than doubled proper use rates:
His presentation then moved on to a brief discussion on the power of narrative construction. His point here was, whether we admit it or not, we all want to see ourselves as characters in a story. If the characters look like us is it a huge bonus? Research indicates that we are more likely to model the behaviors virtual characters are simulating if they look like us. This may even be true if the characters are simulating pro-social or anti-social behavior!
His parting words of wisdom were, don't just tell [learners] things; get them to do the things.
Global Distance Learning Program
Dr. Bob Bodine, Senior Director of Field Force Training at Medtronic, shared how his team tackled the challenge of lowering expenses and improving goals in an organization responsible for eight global regions and 200-250 new hires each year. The solution used distance learning to free instructors and learners from the obstacles of geography. Rather than build a delivery mechanism internally, Bob described how he partnered with an online university with vast experience in online learning. Here are some of the impressive results it yielded:
Converted 50% of trainings to distance learning
Saved tens of thousands of dollars per trained employee
Reduced the need for in-person training to two times per year
Reduced time to competency signoff
Other highlights of the presentation included his team's effective use of asynchronous discussion groups and the practice of having all trainees sign a Learning Contract, in which they commit to following through on their training efforts.
His presentation also introduced me to my new favorite buzz phrase, Diminishing Astonishment.  Meaning, no matter how slick the tech, your learners will be unimpressed with it after five minutes.
Global Reach, Global Relevance
LCDMS: remember it because Bill Magagna, Director of Educational Solutions at Siemens Medical, and his team just built one. The Learning Content and Development Management System bill described is impressive. Imagine a system that takes training content from around the world from various stakeholders and SMEs, normalizes it and styles it in one voice for the whole organization to use. They have it.
If that doesn't make you jealous, Bill's LCDMS is so widely supported, sales representatives are actually given additional compensation when the content they share is highly rated by their peers.
Driving Sales Rep Engagement & Adoption of Mobile Media at Stryker
The Stryker team's presentation led by Mary-Frances Chavez would have made Steve Jobs smile. Stryker has made the iPad part of the way they do business, and it shows. Here are some of the details:
2010: Stryker pilots iPad with a commitment to tracking usage
Late 2010: The initial feedback rolls in:

Helped reps extend sales calls
Shortened selling cycle
Helped reps handle surgeon objections
Allowed reps to better organize and plan their sales calls
Extremely useful during competitive selling solutions
Based on the success, the iPad is rolled out to almost 1,000 employees
2012 Survey Results

40% of reps are using the iPad every day
40% of reps are using it on a case by case basis
94% of reps report positive engagement
61% decrease in printing costs over an 18 month period
First completely paperless product launch
Boom! Impressive. When you see some of their iPad examples, it becomes even more so.
Improving and Measuring Sales Effectiveness Training
Medtronic's presentation by Merrill Collier was one of my favorites at the summit. Linking training to sales effectiveness—surely something keeps trainers up at night. His presentation started with some simple questions:
How do you make sales reps more effective?
Was effectiveness defined for you?
Do you measure training against sales?
Does your training drive incremental revenue?
The audience in this breakout had good answers such as surveys, competency tests, and scoring
methodologies. Ultimately, these questions are soul-searching-type of questions, each of which could be considered on their own.
These questions were a great segue into Merrill's next question: Why not take a clinical trial mentality when it comes to measuring training effectiveness?
(Sold! I'm in.)
With a room full of life sciences training professionals it was a relatable approach:
Step 1: Create a new therapy group (i.e. those starting the new training program)
Step 2: Keep a control group (i.e. those on the current program or no program)
Step 3: Set a goal for the new therapy group (a specific dollar amount or percentage increase in revenue/sales)
Step 4: Get ready for accountability
Could you do your own trial? Merrill's team did. They projected a 2% increase in average daily sales over an 11-week period for the new therapy group. When the trial was over, they did not get the 2% increase they wanted. They got 5%! Meanwhile, the control group saw a 3% reduction in average daily sales over the same 11 weeks.
Could Merrill's clinical trial mentality be a counter to the do more with less training conundrum? Merrill said it best at the end of his presentation when he asked whether saying they all scored well is still an acceptable answer when measuring training today.
The Value Specialist. Understanding Health Economics<
Value is the difference between what is and what could be.  In this presentation, Julie Young, Director of Sales Training at Covidien, gave this wonderful definition of value. She also shared some best practices for creating and retaining value in sales:
Top 5 best practices
Sell multiple products and services. See the total system of solutions.
Sell to higher levels and do not waste time with the wrong people.
Improve competitiveness and the win/loss ratio. Do not lose what you should win.
Protect/increase margins. (How much does 1% mean?)
Defend the sale and retain your best customers.
Julie and her co-presenter Jennifer McClintock, of Aarthun Performance Group, then turned the conversation to the importance of having reps that understand how their customers' businesses run. Specifically, how do their customers generate cash?
Julie pointed out that most reps are only comfortable talking about products, company, and services, but they should also be thinking about where their solutions solve their customers' business issues.
Consider the chart Julie included in her presentation and think about whether your reps are professional visitors or business partners?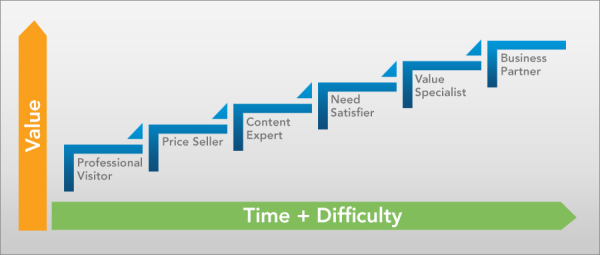 So whether you missed SPBT's Medical Device & Diagnostics Trainers Summit or were there…
I hope you found this summary useful. Please note that I did not write about every presentation. I furiously took notes but I am sure others will fill in any unintentional omissions. Like all good things, this blog post also has to end at some point.
A special thanks must go out to the SPBT team for putting the summit together. Please support their upcoming events!
Thank you for reading,
Mark